STEVE SWALLOW says about us: "there is an high level of artistry happening in this ensemble. It's beautiful to hear improvised Music where all the players have a collective vision and conception. When stars are aligned it can be amazing."

OIR TRIO
Giulio Scaramella – piano
Marco Trabucco – contrabbasso
Max Trabucco – batteria
special guest: Klaus Gesing – sax oprano / clarinetto basso
Live @ auditorium RAI di Trieste
Giulio Scaramella – piano
Marco Trabucco – contrabbasso
Max Trabucco – batteria
special guest : Klaus Gesing – sax soprano / clarinetto basso
The Italian fluid music scene always gives us some interesting news that testify to a unique ability to know how to regenerate itself with originality, manifesting especially by surprising compositional and technical skills. In summary, the ability to propose always new artists and music, with respect of language and of the roots of jazz and carrying a sign of evolution and modernity.
Oirtrio is a classic example. Musicians with solid technical, who have studied and metabolized the tradition and at the same time are holders of a new stylistic synthesis whose figure speaks of influences, colors and flavors from all latitudes.
This album,titled "making friends", is notable for the high quality of compositions, the interplay between the musicians, rhythmically solid. Excellent soloists, where the lyrical vein is further stigmatized by the excellent work of Klaus Gesing on bass clarinet and soprano sax. A truly amazing debut.
TRACK LIST
1. Sandrigo
2. Scarf theme
3. Green weeks
4. Bye ya
5. Young
6. Betty
7. Didi
8. Funkamonk
9. Fla
CREDITS
Recorded , Mixed and mastered by Stefano Amerio at Artesuono Studio, Cavalicco (UD).

Giulio Scaramella – piano
Giovanni Perin – vibrafono
Marco Trabucco – acoustic bass
Max Trabucco – drums
special guests:
Mirko Cisilino – trumpet on tracks 1/2/3/4/6
Tommaso Troncon – tenor sax on tracks 1/3/4/6

Primo premio al "Chicco Bettinardi – miglio opera prima"
Con l'omonimo disco della collana Skyline edita dalla Abeat Records,
sono vincitori del concorso Nazionale Chicco Bettinardi 2015/2016
aggiudicandosi il premio come "Miglior opera prima". L'oirquartett si esibirà al
"Piacenza Jazz Festival 2017" per presentare il progetto.

The Oirquartett is a well-established and active group since 2011 which consists of four talented musicians who, once again, give confirmation of the great vitality of Italian jazz scene today, standing out as one of the most significant band. A quartet modern, with sounds and idioms that, starting from the Afro-American tradition, are characterized by European cultural moods.Original compositions, experimental timbres, innovative technique and imagination in the use of new musical languages. The contributions of the guests Mirco Cisilino on trumpet and Tommaso Troncon on tenor sax, embellish and enrich the musical work , thanks to their deep expressiveness, making listening to this album, very pleasant and interesting.
TRACK LIST
1. A sunny day in Berlin town (8:04)
2. La danza della luna (7:58)
3. I fall in love too easily (8:45)
4. Conversation with Dave (7:11)
5. Rebuilt (7:30)
6. Terzo PIano (6:06)
7. One for Max (6:06)
8. Lost in a violet sky (8:12)
CREDITS
Recorded at Indie Hub Studio, Milano (MI), Italy, by Andrea Dolcino.
Mixed and mastered by Stefano Amerio at Artesuono Studio, Cavalicco (UD).

Listen on spotify
OIRQUINTET

Rita Bincoletto – voce
Giulio Scaramella – piano
Emanuele Grafitti – chitarra
Marco Trabucco – contrabbasso
Max Trabucco – batteria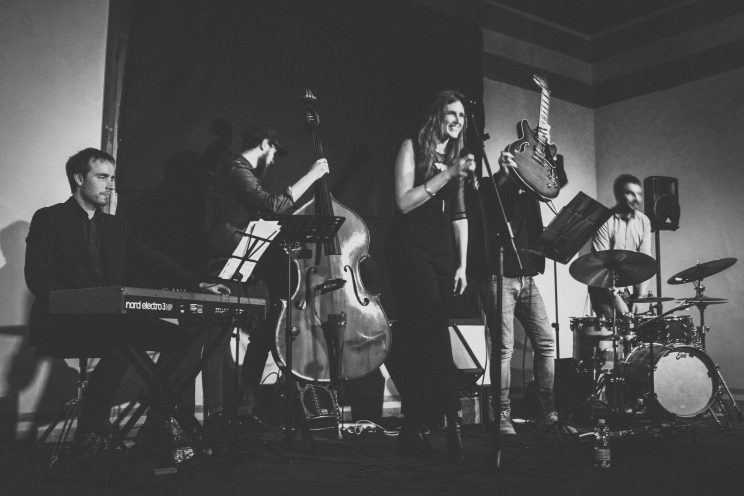 A RECORDING SESSION FOR SUPER HIGH-FIDELITY ENTHUSIASTS ! Picture an Italian Quintet made up of young Artists with an excellent discography already behind them; imagine a project where artistic sensitivity is combined with the highest order of sound engineering: the result is this new project by Oirquintet.The project was recorded by Al Schmitt at the renown French studio "Studios La Fabrique", in Saint Rémy de Provence – France, with the collaboration of Steve Genewick, during a seminar heldfor technicians and sound engineers from all over the world. The mixing and editing phases were instead carried out at the recording studio Arte e Suono by Stefano Amerio, a man at the top of the game in the field of sound recording.
Al Schmitt: over the course of his career he has recorded and mixed over 150 albums and was recognised with a Gold and Platinum record .He won 19 Grammy Awards, most of them as sound engineer and producer. Five of these in 2005 thanks to the work on the album by Ray Charles entitled "Genius Loves Company". He grew up working in the 50s as a sound engineer for Henry Mancini, Cal Tjader, Al Hirt, Rosemary Clooney, Liverpool Five, Sam Cooke. In 1966 he became an in-dependent producer. He produces albums for the Jefferson Airplane, Eddie Ficher, Glenn Yarborough, Jackson Browne and Neil Young. In the mid-seventies he recorded and mixed the works of numerous artists including Willy De Ville and Dr.John. He also worked with Frank Sinatra (for Duets), Ray Charles (in Genius Loves Company) and Diana Krall. He has also worked with Tommy LiPuma.
Steve Genewick made a huge contribution to many of today's contemporary works in the most varied fields. To mention a few: Areosmith, Michael Jackson, Al Jarreau, Bob Dylan, Quincy Jones, Michael Bublé, Paul McCartney, Placido Domingo, Robbie Williams, Ray Charles, Queen, Michael Bolton. Dean Martin, Paul Anka, Earth Wind & Fire, George Harrison, Brad Mehldau.
Stefano Amerio, is the "giant" of sound engineering ' Made in Italy' and surely one of the most appreciated sound engineers in Europe. He obtained countless acknowledgments winning for istance the "JazzIt award" as best Sound engineer. He has collaborated with the label Abeat for a few albums and this has earned him fame in the international audiophile community. We would like to mention in particular the album "Steppin out" by Roberto Olzer trio, winner in 2013 as best foreign instrumental album for the Japanese magazine "Critique Magazine. The same album was then decreed in 2016 as best record ever in the last decade! Another mention goes to the album "Wonderland" by singer Sonia Spinello, winner in 2016 as 'Best Female voice of the year', plus the entire discography of the "Gaia Cuatro".
Since Oirquintet is a group made up of Italian artists, the repertoire is a tribute to their country and the music has been chosen from Italian Singer-songwriters repertoire and rearranged and reinterpreted with style and above all recorded as if in a 'Live performance with extreme attention."It was a great pleasure to record and mix some of the songs by this great group, I hope I get to work with them again" Al Shmitt
TRACK LIST
1. Almeno tu nell'universo
2. io vorrei…non vorrei… ma se vuoi
3. Englishman in New York
4. E penso a te
5. Alice in wonderland
6. Ancora
7. Song of life
8. Metti una sera a cena
CREDITS
Recorded by Al Shmitt e Steve Genewick @ La Fabrique Studios (Saint Remy – FR)
and Stefano Amerio @ Artesuono studios (Cavalicco – UD)
Mixed and mastered by Stefano Amerio at Artesuono Studio, Cavalicco (UD).
PRESS: